Paper For Plastic
Written by:

Jerry Caracciolo
Paper for plastic
Card users prefer mailed statements, poll finds
July 5 at 11 a.m.
More than half of consumers continue to have paper financial statements delivered by mail, new research shows.
Paper statements remain popular with credit card users, including many who say they are willing to pay extra to receive mailed statements each month.
The research comes from a new poll by CreditCards.com, a consumer news and information service.
The survey found 54 percent of credit card users still receive paper statements each month, despite efforts by the financial industry to push consumers to switch to digital versions.
Almost half of card users — 46 percent — say they wouldn't switch to e-statements, even if they were charged extra for a monthly mailing.
Fifty percent of cardholders prefer monthly mailings because they still pay their bills by check and like receiving an envelope with their statement.
Respondents also said hard-copy statements serve as a reminder that the bill has to be paid, and paper makes recordkeeping easier.
"Electronic statements might seem cool and environmentally friendly, and paper statements may seem old-fashioned, but paper is just easier to review," Chi Chi Wu, a lawyer with the National Consumer Law Center, told CreditCards.com.
A study earlier this year by the law center found paper statements benefit older consumers and allow families of incapacitated consumers to better manage financial records.
Learn all about the different Avenues available for research of Postal Products, Services and hot topics
Written by:

Jerry Caracciolo
The National PCC Database is intended for those business mailer representatives who would like to opt-in to receive information on various postal products, services and hot topics that are pertinent to the mailing industry. Some of the different communication vehicles included:
PCC Insider
Industry & PCC Alerts
Mail Spoken Here
National Postal Forum
Other mailing industry news
To opt-in, mailing industry representatives should go to the link on the RIBBS site under the PCC Tab at https://ribbs.usps.gov/index.cfm?page=pcc (scroll down to PCC National Database Subscription).
Brockton mailing company installs 2,067-panel solar array on roof
Written by:

Jerry Caracciolo
Brockton mailing company installs 2,067-panel solar array on roof
Jim Clark, owner of the Brockton-based JLS Mailing Services, said the goal is to reduce his company's power usage to become a net zero energy business, meaning that the total amount of energy used there will become roughly equal to the renewable energy produced at the building.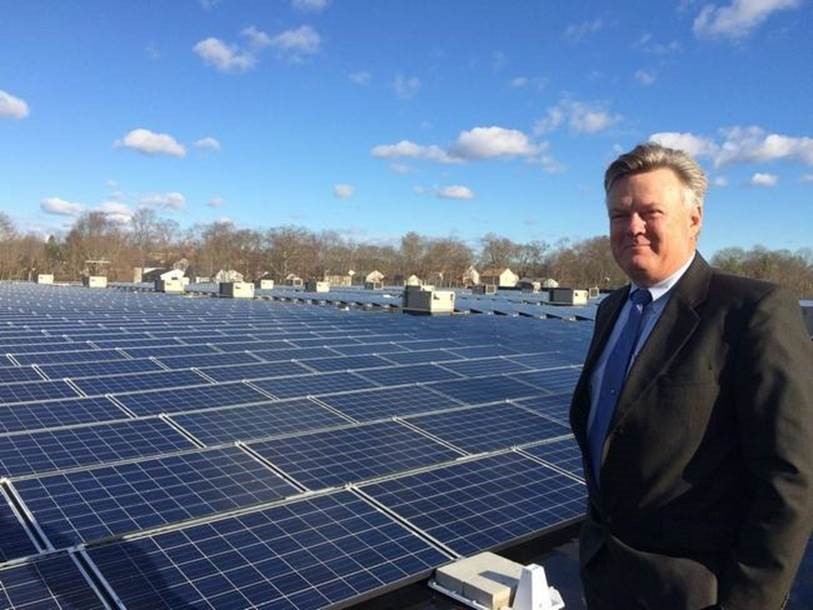 Jim Clark, owner of JLS Mailing Services in Brockton, decided to install a 536-kilo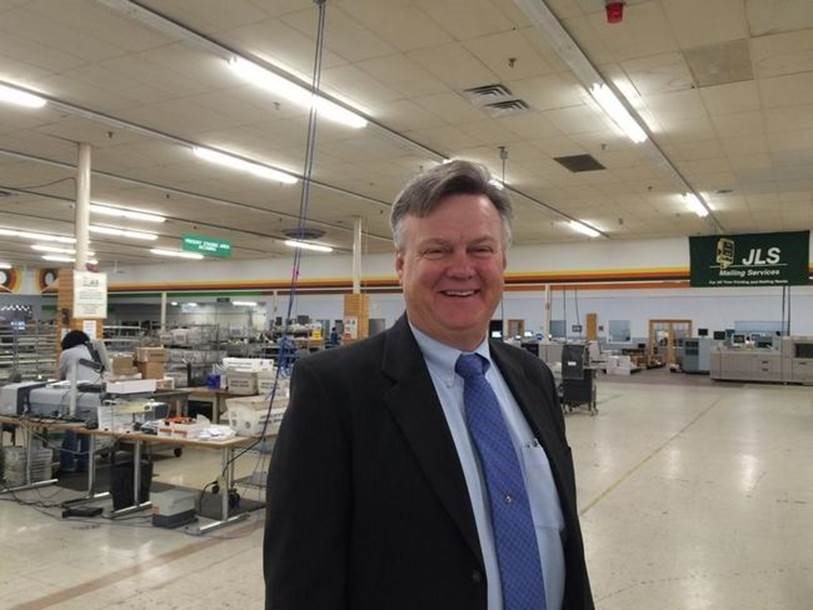 By This email address is being protected from spambots. You need JavaScript enabled to view it. Enterprise Staff Writer
Posted Dec. 15, 2015 at 4:10 pm Updated Dec 15, 2015 at 5:00 PM
BROCKTON – A Brockton business owner climbed a ladder on Tuesday morning and overlooked 2,067 solar panels neatly organized on the roof of his 100,000-square-foot building.
"To remain competitive in this day and age, you have to think ahead like this," said Jim Clark, owner of JLS Mailing Services, located at the former Caldor department store on Crescent Street.
Clark said that his print mailing company, which employs nearly 50 people, is seldom thought of as environmentally friendly because of the amount of paper it uses. But Clark said it is exciting for his almost 100-year-old company to be on the cutting edge of "clean" renewable energy, while also achieving savings that will help it hire additional workers.
"For a company like ours to embrace new technology to maintain its viability, it's pretty exciting," Clark said.
The 536-kilowatt solar energy system at JLS Mailing Services cost $1.26 million, but the company said it would achieve a return on investment within 10 years. The project was completed about a week ago through a partnership with the Hopkinton-based Solect Energy.
The annual electric savings for JLS Mailing Services will start at $93,000, which accounts for 80 percent of the power used by the Brockton company.
JLS Mailing said it would also receive Solar Renewable Energy Credits worth at least $1.3 million over 10 years. The total estimated annual revenue and avoided cost from the project is roughly $200,000, the company stated.
Clark said the goal is to reduce his company's power usage to become a net zero energy business, meaning that the total amount of energy used there will become roughly equal to the renewable energy produced at the building. In addition to the solar energy production, this means JLS Mailing will continue to improve its energy efficiency, through other projects like the recent installation of LED lighting, Clark said.
While cutting overhead costs was a key motivator for the project, Clark said he hopes that the solar energy system will get his employees and customers thinking about reducing their own carbon footprint, just as world leaders recently met in Paris to forge a non-binding, yet precedent-setting agreement to combat climate change.
"We took a detailed look at what we can do as a small company in the global economy," Clark said. "The positive impact on employees is that they are now more energy conscious. .... We feel very good about this and our employees and customers are excited for us as well."
JLS Mailing Services relocated to Brockton in 2000, Clark said. The company was founded in 1920 as the Joyce Letter Shop in Boston. Clark bought the company in 1983.
Clark said he first became interested in investing in solar energy after a solar industry representative contacted him four years ago, after seeing a satellite photo showing the company's large roof and other ideal conditions.
"All the stars aligned for us on this particular project," Clark said.
Mail dominated world
Written by:

Jerry Caracciolo
Newport Postmaster Lisa Pontes on where to mail your letter to Santa Posted: Tuesday, December 8, 2015 4:45 pm
Mail dominated world By Bre Power Eaton | Mercury | Twitter: @BrePowerEaton NewportRI.com | 0 comments
LISA PONTES | Postmaster Between Thanksgiving and New Year's Eve, the U.S. Postal Service is expected to deliver 600 million packages. If you include cards, that's 15.5 billion pieces of mail, including letters to Santa Claus, to be delivered nationwide. Last year, Newport postal carriers collected approximately 75 letters to Santa, and Lisa Pontes expects even more this year thanks to a new special red postbox at the main post office on Thames Street exclusively for collecting North Pole-bound letters. It's this neighborly sense of service that Pontes fosters in her role as Newport's first female postmaster. Since she started her postal career in 1994 as a part-time flexible mail clerk in Fall River, Mass., the 50-year-old Tiverton resident has worked her way up through the ranks, serving as a postmaster in both Tiverton and Wakefield before taking over former Newport Postmaster Scott Beeman's position this past January. You won't find a bigger advocate for the U.S. mail than Pontes, who notes that the Postal Service delivers to 154 million addresses every day and is the largest retail organization in the country — larger than Walmart, Starbucks and McDonald's combined.
What are the deadlines for mailing cards and packages in time for Christmas? December 15th would be the cutoff for Standard Post. December 19th for First Class mail. The 21st for Priority — that's our two to three day delivery service. The 23rd for last minute shoppers who would use our Priority Mail Express. That's an overnight to one-day service we provide.
Does the cost spike for those rushed packages? It depends on the weight and size of the package unless you use a flat rate box. And it also depends on the location you're sending it to. For Priority Mail, an average box runs $5 to $6. The Priority Express Mail average starts at around $14.
Do you get many letters to Santa? We do. Actually we just had a tour with 5th through 8th graders from a local school. I brought them into my secretary and said, "This is Tina, she's my little elf. See all the Santa letters here? At the end of the day, my elf Tina collects all the letters for Santa, puts them in her red bag, and when she's leaving, she drops them in the mailbox out front. Santa has a special key and at night, when everyone's sleeping, he comes and grabs all the letters from the kids." And they were like, "Oh, really?!" (Laughs.) I had treats for them. They had a ball! We all went outside and mailed all of their letters.
What do you do with the Santa letters that the post office receives? We respond and send them a special letter from Santa with a cancellation stamp from the North Pole. I actually go out and buy little gift packages with coloring books and crayons for the kids for their Santa letters. My secretary was like, "What are you doing? The poor kids. What if they move out of Newport?!"
What's the strangest thing you've seen people send or try to send? Alcohol! We are a government entity, so we are not as flexible as private businesses for shipping. We cannot accept alcohol. Someone just mailed alcohol and the bottle broke. It's really difficult for us because any time there's a leaking package, I have a cleanup team I have to send in. We have to take precautions due to the anthrax scare in 2001.
In what ways has the Postal Service changed since you started as a mail clerk over two decades ago? Our letter volume has decreased tremendously due to the internet and social media. I remember being a clerk, having to distribute mail and actually having to walk over piles. Now we're struggling for mail. Our packages are increasing while our first class letter mail is decreasing.
How do you plan on tackling these changes as Newport postmaster? I try to get out into the community as much as I can. I help costumers with their advertising, mailing and shipping needs and help them determine whether they can benefit from using the Postal Service. I will hold "Grow Your Business Day" seminars every third Thursday on the second floor of the post office at 10 a.m. starting in the new year.
How do you deal with your competitors? We are actually partners with them. UPS and FedEx pay us to deliver most of their ground packages and we pay them for using their air transportation. They take advantage of our expansive delivery network because we deliver to every residence and business that receives mail. They do not. Nobody has an infrastructure like that. Not even Amazon! We signed a contract with them — we deliver Amazon packages seven days a week, even on Sundays, when a couple years ago they were talking about the Postal Service going down to five days of delivery. We are still here! We are over 200 years old. Not many businesses can say that. Our mission has always been customer service. My goal, my focus, is getting employees engaged. I'm more of the old-school way — I want my mail carriers to be a family friend.
Does the Postal Service feel like a male-dominated field? Not at all. The first woman postmaster general, Megan Brennan, was promoted this year. Times are changing. We are one of the most diverse organizations. We employ everyone.
What led you to pursue leadership roles in the Postal Service? I was one of six children, and I was the baby. I had to learn to be the boss! (Laughs.) I am the nurturing type. I have good values and morals and owe that all to my mom and dad. I believe that they instilled leadership qualities within me.
What is your leadership style? I'm a team player. When I got here I mentioned to my employees, "We all work for the same organization. We are just at different levels." I want to create a safe working environment. I hold one-on-ones with my employees almost daily. I have an open-door policy in my office downstairs: I moved down there to be closer to my employees and be on the workroom floor. I'm hands-on. I'm not going to ask you to do something I haven't done myself. I think employees are really receptive to that.
A few years ago the Broadway post office was considered for closure.
Do you have any new news on this? Our lease is still going strong there for a few years. It's a convenient location. Keep utilizing the Postal Service and we won't have to worry about closing any locations.
Do you have any favorite stamps? I love the gingerbread houses. They've been around for a couple years, but the Charlie Brown holiday stamp is a new one. We have 10 blocks of them.
What would you love to find in a package mailed to you during the holidays? All I'm thinking about this Christmas is how I can volunteer my services. Actually a woman just called. She's doing a wonderful thing with children making care packages for the troops overseas that aren't going to be home for Christmas. I told her to bring them on down and the Postal Service will take care of all the postage. For me, for Christmas, I want everyone's family to be safe. I don't need any materialistic things. I want my granddaughter to grow up in a world that's peaceful and thriving. That's all I could ask for.
Why the Print Catalog Is Back in Style
Written by:

Jerry Caracciolo
J. C. Penney's recent announcement that it is resurrecting its print catalog reflects a trend of retailers returning to the print medium as an important sales and marketing tool.
While Bloomingdale's and Saks Fifth Avenue have been mailing catalogs for years, now specialty retailers are picking up the tactic. Some, like Anthropologie, are launching new catalogs, while J.Crew and Restoration Hardware have significantly upgraded their catalogs in the past couple of years. Even digital retailers such as Bonobos, the menswear retailer, and Birchbox, the beauty subscription service, have started mailing catalogs. According to the Direct Marketing Association (DMA), catalog mailings grew in 2013 to 11.9 billion.
The last time companies showed so much interest in catalogs was in 2007, when catalog mailings peaked. In that year alone, a DMA study showed 59% of multichannel marketers had increased their catalog circulation from the year before. J.C. Penney's catalog distribution had swelled to 70 different mailings, in addition to its annual 1,000+ page "Big Book."
But then the Great Recession hit, and retailers looking to trim their expenditures cut catalog budgets. With the concurrent rise in online sales and marketing, print media seemed like a waste. Although some holdouts remained (notably, Patagonia and Brookstone), catalog circulation continued to decline for the next several years. According to the DMA, in 2012 mailings dropped to its lowest level since it began collecting annual data in 2001.
The recent resurgence in the popularity of catalogs raises questions about their value and long-term viability. Is the latest rebirth of the catalog merely a reflection of the Great Recession's conclusion? Will they once again fall out of fashion at the first sign of softness in the market?
Given the new dynamics of multichannel marketing and commerce, as well as the new targeting and measurement capabilities of catalog marketing, I think catalogs are here to stay this time.
Multi-channel shopping and buying is on the rise, and retailers know that customers who use more than one of their channels are usually the most valuable. In fact, Nordstrom reports that customers who have a multi-channel relationship with the brand spend four times as much as those who do not. Bonobos shares similar results, with Craig Elbert, vice president of marketing, reporting that 20% of the website's first-time customers are placing their orders after having received a catalog and are spending one and a half times as much as new shoppers who didn't receive a catalog first.
Catalogs are also uniquely designed to help marketing departments fulfill their objectives. Marketers are increasingly challenged to produce a specific return on investment for efforts. The effect of a broadcast spot or social media campaign on sales may be hard to pin down, but catalogs — with their definitive mail dates and customer and source codes — are easier to track. Targeting with catalogs is also much easier now, thanks to huge industry databases containing all sorts of information on millions of households. And thanks to online purchasing, many retailers have amassed their own customer databases that can be synced up with them. This combination gets the right catalogs into the right hands.
What's more, new production and printing capabilities in print media have taken the cost and complexity out of versioning — the industry term for tailoring different versions of a catalog to different customer segments. Outdoor and apparel retailer L.L.Bean says it is experimenting with the page count of the catalogs it sends to regular website shoppers. Steve Fuller, chief marketing officer, explains that instead of sending every customer his brand's largest book, he looks for frequent website visitors and asks, "Can I only send her 50 pages, or 20, as a reminder of, 'Oh, I've got to go to the website'?"
Retailers have also discovered that catalogs can be used for high-quality content marketing. High-touch print pieces filled with stories, fashion show images, profiles of celebrity endorsers and designers, and room layouts have proven to be excellent ways to convey a brand ethos and express a brand personality. For instance, Williams Sonoma has started including recipes in its catalogs, next to the products consumers need to cook them. And Restoration Hardware has elevated brand-building through catalogs to an art form. Its 2014 annual catalog was actually comprised of up to 13 "sourcebooks" with more than 3,300 pages of luxurious photography, profiles of designers and craftsmen, inspirational stories — and yes, products for sale. The extravagant catalog is part of the company's effort of "becoming a brand worthy of loving," as chairman and CEO Gary Friedman explains. "We believe what we are doing is moving beyond an intellectual connection to an emotional one. We are beginning to express those things we deeply believe in a way you can see it."
The need to engage customers at this higher level is unlikely to go away even if the economy takes another turn downward. In fact, as more products become more similar and as the Internet continues to provide increasing access to more products, print catalogs and their content will grow as means to differentiate brands and sustain existing customer relationships. Great brands integrate catalogs with email marketing, social media, and other tactics into a distinctive, memorable, and valuable brand experience for their customers.
Catalogs may seem old school, but their increased capabilities and the brand-building potential suggest they'll remain a staple in retailers' toolboxes – and consumers' mailboxes.
Printed in The Harvard business review
Know Someone Looking For Employment? The United States Postal Service is looking for City Carrier Assistants For The Providence Area
Written by:

Jerry Caracciolo
UNITED STATES POSTAL SERVICE
Now Hiring City Carrier Assistants (CAA) For Providence RI And Zip Code Area 029 Stations
Salary: $15.68
For more information and to apply for the position on the USPS website, go to:
Check weekly for new job postings
All applicants must be at least 18 years of age; speak and understand English and must be a US citizen or have permanent resident alien status.
Applicants must have at least 2 years of documented, unsupervised driving in the United States or its territories.
All applicants must successfully complete a pre-employment medical assessment and drug screening analysis. A review of your suitability background and driving record investigations will be conducted.
Successful completion of Postal exam 473.
The United States Postal Service is An Equal Opportunity Employer
Making Your Mailing Business the Best Choice
Written by:

Jerry Caracciolo
Making Your Mailing Business the Best Choice By John Foley, Jr.
What good would a menu be on the door of a restaurant if it told the hours of operation, but didn't list any of the food it offers? I think the answer is obvious; it would not be an effective menu at all. That's why I find it so surprising that print, mail, and marketing service providers continually provide irrelevant first impression details such as who and when they were founded – forgetting to showcase all of their delicious offerings. When you discuss your affiliated mailing business to prospects, do you mention the real, practical ways your solutions can solve their problems? The point is, if you want to grow your customer base and increase long-term projects, you need to market in a clear, consistent way that tells your target audience why they need your solutions. Start with these five simple steps:
Step 1: Identify Your AudienceThe more you know what your target audience looks like, the more you will be able to speak to them in a way that solves their needs. How do you go about this? Hang out on social media, follow digital conversations in online communities and blog forums, ask current customers questions, and send out surveys with great incentives. If you're looking to identify your target audience, the key is to listen to what others in your industry are doing and saying.Once you've done everything you can to know and understand your potential customers, work hard to build your marketing message around them.
Step 2: Know Your Strength If you're going to tell your prospects why they should use your business over the competitors, they need to know what makes you the best choice. What is your differentiator? People want to know how your services and or offerings will: · Educate them · Make their job easier · Further their objectives · Represent their business Identify what your offer in terms of these bullet points and before you know it, you will have a solid message as to how you stand out from the competition.
Step 3: Develop Your Message Your message needs to stand out. Crisp writing, compelling headlines, and copy that gets straight to the point providing clear calls to action will serve you well. Be strong, confident, and consistent in your marketing from blog to Tweet, and remember to always focus on the one question that will be at the forefront of your prospects' minds, which is, "What can you do for me?" If you can answer this, you have your value proposition, remember to make it shine.
Step 4: Show, Don't Tell If you've been following my past articles, then you probably know how strongly I feel about talking with your audience, not at them. Talking about services is important, but nothing is more compelling than letting someone see what the solutions your services can do for them. Share free, valuable content that will benefit your audience, and give them a taste of what working with you can do for them.
Step 5: Don't Do All the Talking Your current customers are one of your best assets when it comes to marketing your business. Displaying testimonials is a great way to get your customers to do the talking for you. Give your prospects the chance to communicate with customers you have that have faced similar problems. Examples are, after all, the best way to lead, so use them to show the genuine benefits of your offers.
The competition in this industry is tougher than ever. Hone in on your strengths and make sure your prospects know how those strengths can benefit them, making it clear why your mailing business is the best choice. Posted in Mailing System Technology About John Foley, Jr. John Foley, Jr. is the CEO of interlinkONE and Grow Socially. John and his team consult with print and mail companies on sales and marketing techniques, write strategic online marketing plans to get them on a path to marketing success, and John speaks frequently to print, mail, and fulfillment providers about expanding and transforming their businesses to grow revenue. Learn more about John at JohnFoleyJr.com, and his companies at www.interlinkONE.com and www.GrowSocially.com.
Why Your Direct Mailings Won't Work On Their Own
Written by:

Jerry Caracciolo
Did you ever take something apart as a kid, just to see how it would work? Then you'd put it back together again—and notice that you had an extra part of two on the floor? Whatever it was you took apart didn't work right anymore, and the "extra" part on the ground didn't do much by itself.
Direct mail marketing today is a bit like that. It's an integral component of your overall marketing strategy, but by itself its just not very effective. Why is that? Companies and organizations used to do stand-alone direct mail all the time—and it worked really well. They would mail something out and give recipients the option to send a response card back, call, or (when things got really hi-tech) fax a response. Then along came the Internet and everything changed. It wasn't just the technology that changed—but how people do business changed. Direct mail can still get people to respond, but today they don't necessarily respond with an order. They respond by seeking out more information. Direct mail is still effective as a means to generate response, but printing, postage, and mailing costs make it too expensive to use as a follow-up tool. And companies don't have the personnel to man phone banks to deal with questions. That's why smart companies and organizations integrate their direct mail efforts with their online efforts. They use mail as an effective means to get attention and generate interest and response—but that response needs to be directed back to the company's website, and specifically to a unique landing page that offers exactly the right information. And what about nurturing the leads that are generated through direct mail? If there is a large response, it's probably too expensive (not to mention time-consuming) to mail to everyone or to attempt to contact them by phone. That's where a well-planned email follow-up plan is more efficient and cost-effective. And even that, will connect potential clients back to a company's website. Your direct mail efforts won't work on their own because they're too expensive to sustain, and (perhaps more important) your potential clients want answers and information immediately. If your direct mailings drive potential customers to your website, they can have all the information they want whenever they want it—if your site is set up properly. Direct mail is still an effective tool—and it has its own advantages. But it can't work effectively on its own. Make sure that when you use it, you integrate it with your other marketing efforts for maximum effect.
Posted by Spencer Powell Jan 28, 2015 10:30:00 PM
Let The Experts Help You Build Your Business With Direct Mail
Imagine if you had a team of direct marketing experts working with you to increase the effectiveness of your direct mail…giving you valuable tips and guidance that boosted your response rates, saved you money, and helped you grow your business like never before.
Now you can put the experts to work for you -
by joining the Postal Customer Council (PCC) of Providence
For a modest fee that will pay for itself many times over, you'll have face-to-face access to a renowned group of Postal executives and industry experts. They'll be at your service as they pass along their knowledge, experience, and wisdom to you – enabling you to:
Tap into some of the best minds in direct marketing to get ideas for your direct mail campaigns and maximize the impact of your mailings
Hear all the latest USPS regulations and requirements – so you can always stay current and take advantage of discounts that are available to you
Participate in an engaging forum where you can discuss and resolve local mailing issues with your local postmaster
Attend seminars, webinars, and meetings for revenue-generating and cost-saving ideas
Network, make connections, and develop relationships that will increase your knowledge